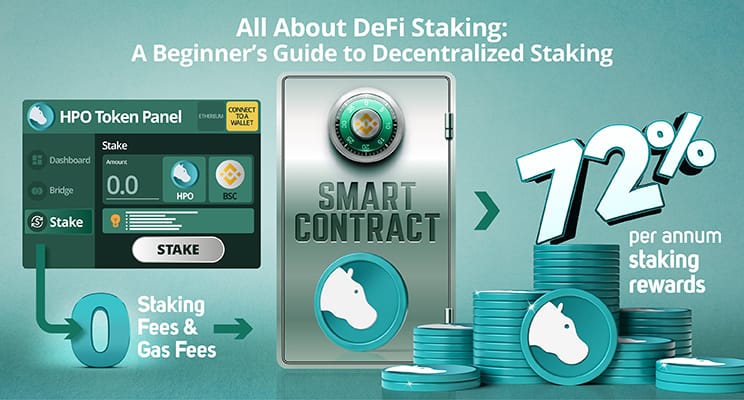 Top Things To Know About HPO Defi Staking
Like any technology, the blockchain and crypto space is continuously evolving. The cryptocurrency industry was aware of the prospects that will come along with the emergence of decentralized finance (Defi) in 2020. Even more so, the idea of Defi Staking was introduced, ushering in a new age for the crypto space.
A new type of crypto staking called Defi staking has emerged. It utilizes smart contracts, which are bits of code that represent automated financial agreements between two or more people.
Because it provides a safer and more dependable way to lock up money for a certain length of time, Defi staking has ushered in a new era for staking. 
What is Defi Staking?
Locking one's cryptocurrency assets within a smart contract in return for extra tokens is known as Defi staking. Additionally, this enables users to join the network's validators in a Defi system. By receiving compensation in the form of staking rewards, users who have staked their tokens in some way aid the network as a whole. 
Defi staking uses the Proof of Stake mechanism, allowing users to stake crypto assets for the validators who use a layer-1 or Defi protocol. By performing their duties, users earn token rewards. 
Defi Staking in Hippo Wallet
Hippo Wallet is a decentralized crypto wallet offering distinct features like Multisignature, Connect to Node, Multi-currency, Buy Crypto Via Fiat, and several others.
In addition, Hippo Wallet also recently launched its utility token, Hippopotamus Token (HPO Token) in an ICO and the HPO Staking Program is one of the key benefits of participating in it.
The HPO Token, as the team describes, uses the Proof of Stake mechanism. 
All procedures are automated when you invest in HPO; manual monitoring is not required. 

It goes straight to the smart contract, and 

the users will subsequently get more HPO Rewards when they stake a portion of their HPO Token. 

Once the lock period is over, the user will receive this specific incentive.
Note: For now, HPO Token only allows 1-month staking, with 6% earning and 72% APY. Once the Staking Platform develops, this will expand to 3 months, 6 months, and 12 months.
It's also crucial to keep in mind that if you take part in any Defi staking, the potential interest rates will be somewhat greater and extremely safe, given that it is inside a smart contract.
Conclusion
With all the issues circulating centralized exchanges today, traders turn to decentralized applications and manners of trading, investing, and even staking. Defi staking or decentralized finance staking is among these.
With that said, you're always welcome to download our decentralized app, Hippo Wallet, to secure your funds and grow your portfolio by participating in the HPO ICO page.
We also have a FIFA Campaign at the moment, that allows players to win a pool prize of up to 1,000, 000 HPO Tokens.
Visit our main website to know all of our offerings.