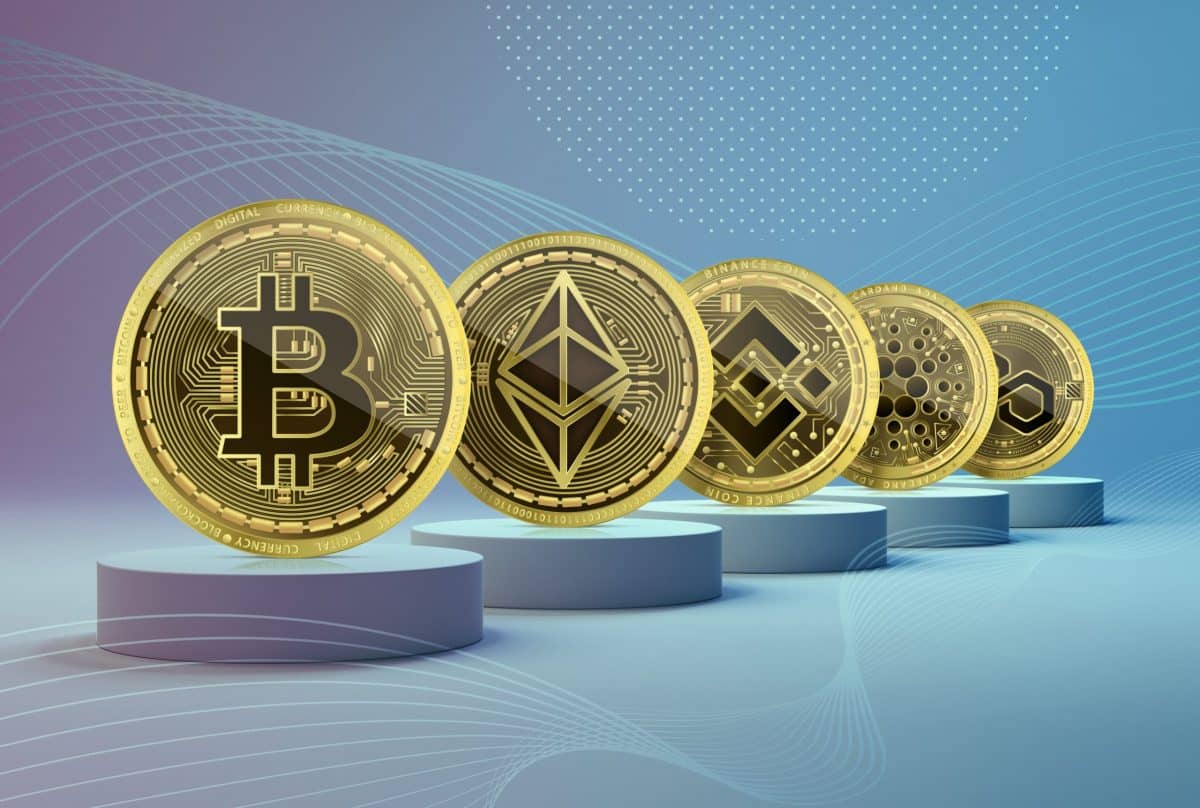 The Top 5 Cryptocurrency Investments in 2022
Many businesses and individuals have already accepted cryptocurrencies as a part of our lives. Some have created crypto apps, accepted crypto payments, and taken cryptocurrencies as a smart investment.
Different sectors have seen the potential of cryptocurrencies and have adopted blockchain technology alongside. Key players in various industries, like Tesla, Visa, Stripe, have also joined in the massive blockchain adoption.
So now, let's see what the top 5 cryptocurrencies are today.
| | | |
| --- | --- | --- |
| Cryptocurrency | Price | Market Cap |
| Bitcoin (BTC) | $21,389.38 | $408,544,210,914 |
| Ethereum (ETH) | $1,469.07 | $178,742,992,935 |
| Binance Coin (BNB) | $252.60 | $40,744,806,705 |
| Cardano (ADA) | $0.4699 | $15,843,376,631 |
| Polygon (MATIC) | $0.819 | $6,575,510,359 |
Source: CoinMarketCap (July 27, 2022)
Bitcoin (BTC)
Bitcoin was the first cryptocurrency ever introduced to the public in 2009. It has been around the longest; hence, the obvious reason why it's the leader among the hundreds of existing cryptocurrencies today.
Ethereum (ETH)
On the Ethereum network, developers can create their own cryptocurrency by deploying smart contracts. It has far exceeded its competitors in the market because of its unique technology. It is among the most popular blockchains today.
Binance Coin (BNB)
Binance Coin is the native token of the world's largest centralized cryptocurrency exchange, Binance. The coin has shown persistence over time, and this has become the very reason for traders to believe that it is a stable investment option among many others.
Cardano (ADA)
The Cardano network has a smaller footprint compared to other networks, and this is one of the reasons why investors prefer it. Because it takes less energy to complete a transaction, this means transactions are faster and cheaper.
Polygon (MATIC)
Polygon, by the team that created Ethereum, is designed to scale and improve Ethereum-based infrastructure. As a "layer two" solution, it expands Ethereum into a multi-chain system and improves transaction speed.
Of course, there are still several cryptocurrencies that are taking the market by storm. As an investor, it is best if you choose among the best crypto wallets as well to manage your funds well.
Thankfully, Hippo Wallet is here to save your day. It is a private, safe, non-custodial crypto wallet that allows users to send, receive, and store cryptocurrencies. It is easy to use—perfect for beginners and even experienced traders.
To know more, please visit our main page. 
Disclaimer: The views and opinions expressed in this article are solely the author's and do not necessarily reflect the views of Hippo Wallet. No information in this article should be interpreted as investment advice. Hippo Wallet encourages all users to do their own research before investing in cryptocurrencies.