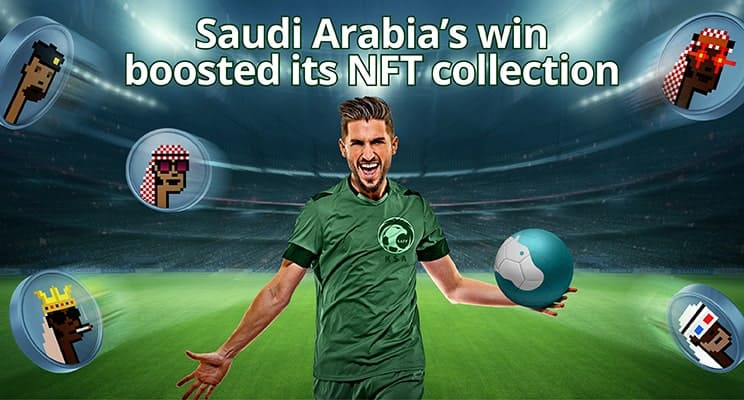 Saudi Arabia's Win Boosted Its NFT Collection; Argentina's ARG Fan Crypto Plunges
The FIFA World Cup 2022 has become unpredictable with unanticipated wins.

Saudi Arabia shocked the world with their win against Argentina.

With this, Saudi Arabia-themed NFTs soar, while ARG fan crypto plunges.
Everyone's eyes are on the FIFA World Cup right now. One, because fans can finally see their favorite teams play live. Two, because for the first time, FIFA hailed a crypto brand as the official sponsor, Crypto.com, and three, because some unexpected events transpired within days into the FIFA World Cup.
Japan surprised everyone when they beat Germany by 2 - 1, and Argentina lost to Saudi Arabia as well by 2 - 1. With how things are going, fans seem to think that the matches are now unpredictable.
Focusing on Saudi Arabia's win against the flagship Argentina, it has now become a popular choice for football and crypto fans alike.
According to reports, the sales for the Saudi Arabia-themed NFTs (non-fungible tokens), "The Saudis" have skyrocketed by 387%, following the team's astonishing 2 - 1 win against Argentina—one of the best soccer teams in the world.
In contrast, Argentina's fan token (ARG), dropped by 21% within the past 24 hours of the match. At press time, ARG is traded at $5.25, according to CoinMarketCap. A lot of fans were surprised by the match's outcome, as the team was a fan favorite as well. 
Furthermore, to ride the hype of the FIFA World Cup 2022, our team at Hippo Wallet created a Guess and Win game, where users can share a pool prize of up to 1,000,000 HPO*. Mechanics and T&C are posted on the page, users need to read them first before playing.
*HPO, is the utility token of the Hippo Wallet app. The HPO ICO main page has started, and investors are welcome to join!
*HPO value may vary according to market volatility.
More so, if you are looking for a secure wallet to store all these fan tokens or even the HPO Tokens you might win if you participate in our game, download Hippo Wallet application! You will also be able to maximize your funds when you visit our partner decentralized exchange, Riverex main website, to swap your crypto with another or create a liquidity pool within the DEX.
Play our game. Use our app. Grow your portfolio with HPO!